https://www.youtube.com/watch?v=Dr3qpQYjlRI
All-In-One
Payroll & HR
Solutions
Maximizing Your Potential with Integrated Payroll & HCM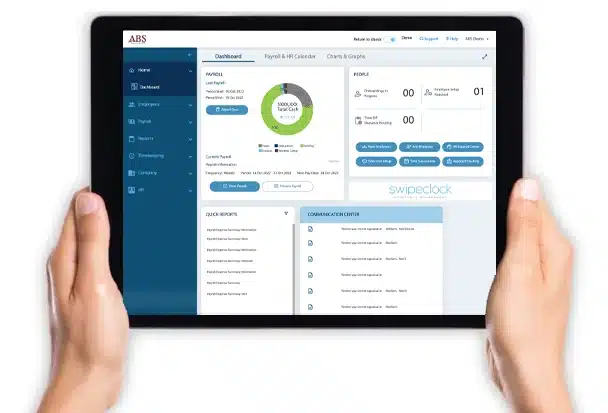 Manage your workforce anytime, anywhere.
Our cloud-based workforce management platform lets you easily manage payroll, hiring and employee onboarding, time tracking and scheduling, benefits, staff communications and other HR functions. Conveniently access your payroll and HR tasks online safely and securely with our intuitive, easy-to-use platform, customized for your specific business needs.

All the payroll & HR services you need in one cloud-based solution.
A complete, customizable set of tools allows you to run payroll and manage data, safely and securely.
Recruit, hire, onboard, schedule, retain and manage your team online.
Securely, conveniently enroll employees and manage their benefits.
Online applications and other forms make it easy to welcome new hires.
Simplify scheduling and time off requests for you and your employees.
Streamline payroll & HR processes with ABS!
+ Performance
Improve efficiency and productivity with our timesaving, easy-to-use technology.
+ Security
Our proprietary cloud-based service provides maximum protection for your company's data.
+ Customization
ABS tailors the platform to fit your needs, so you get the right fit for your unique business.
+ Support
The ABS team is here to help you every step of the way.
Request A Demo
We'll spend some time learning more about
your business and your specific
workforce challenges.
Find out more
Our office is conveniently located in
San Antonio. Can't make it to our office?
No worries – we've got you covered
Find out more